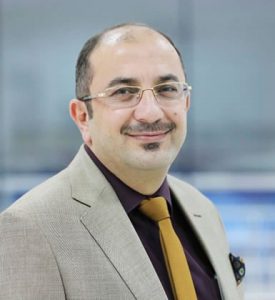 I am delighted and honored to welcome you to the Gulf University as President of the University.
Gulf University was founded in 2001 with the aim of building a culture based on the quality of education and preparing lifelong learners.
The University enjoys a strong relationship with the Ministry of Education and the Higher Education Council based on fruitful understanding and cooperation to serve education in the Kingdom of Bahrain. We appreciate this relationship, especially the continued support we receive from the Ministry and the Council at all levels.
The Gulf University offers unique opportunities for challenging and motivated students for the future. We strive to provide academic education and services and create a competitive campus for our students and prepare them to become successful professional leaders like other institutions of higher education. We have an additional duty to promote noble concepts of humanity. Equally, we attach the utmost importance to preserving the heritage, values and constructive beliefs of our students as good citizens.
I would also like to mention that the University has achieved a great deal in its pursuit of global participation in its programs and research through the holding of strategic partnerships and effective memorandums of understanding and the launching of joint programs with old universities whose real return will come to our students and members of the academic body in the exchange of knowledge and specialized research. This experience will demonstrate our ability to stand out, compete and reach a world-class that is of public benefit to our Bahraini and Gulf society.
From this position, I invite our students in the Kingdom of Bahrain and any student in the Arabian Gulf to visit our website to learn about our new programs and enquire about joint programs with the highly reputable universities with which we have concluded agreements to introduce programs, exchange experiences and practical training through the joint supervision of our students to acquire the latest scientific means and techniques to achieve their aspirations and hopes.
The Gulf University supports scientific research and stresses the importance of scholarships and culture to achieve excellence in teaching. We are committed to encouraging each faculty member to develop with their peers in their disciplines and research and to participate significantly in continuous professional development and present their new knowledge to our students.
Thank you for your keen interest in learning more about Gulf University and kindly visit our website or contact the admissions department for all information about your nee
Professor. Mohanad Al-Mashhadani
President of Gulf University