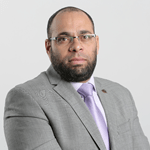 Dear Students,
On behalf of Communication and Media Technologies College, I welcome and congratulate our students for choosing the first Media studies college in the Bahrain Kingdom.
You are about to start a new stage of your life that will bring many invaluable learning opportunities. We provide you with the best possible learning environment to enable you to achieve your academic goals through a very sound academic program in Mass Communication and Digital Marketing Field. We focus on practical, critical thinking, and employability skills needed in the future career industry.
As dean of the college, I'm extremely proud of providing practical, experience-based media education that our college has upheld since our startup. Our Mass Communication and Digital Marketing programs prepare our students to become leaders with the moral depth and intellectual intensity necessary to meet the challenges of a time of digital transformation in society.
I would like to cordially invite all of you who are interested in expanding your knowledge and enriching your careers to explore our college further either online or through a visit to the campus.
Our college's academic and administrative staff will be happy to talk to you, and we will always be here for every student; May I take this opportunity to wish you all the best in your studies.
With kind regards,
Dr. Sherif Badran
Dean of Communication and Media Technologies College
[email protected]